CALL FOR ENTRY - Bridging the Distance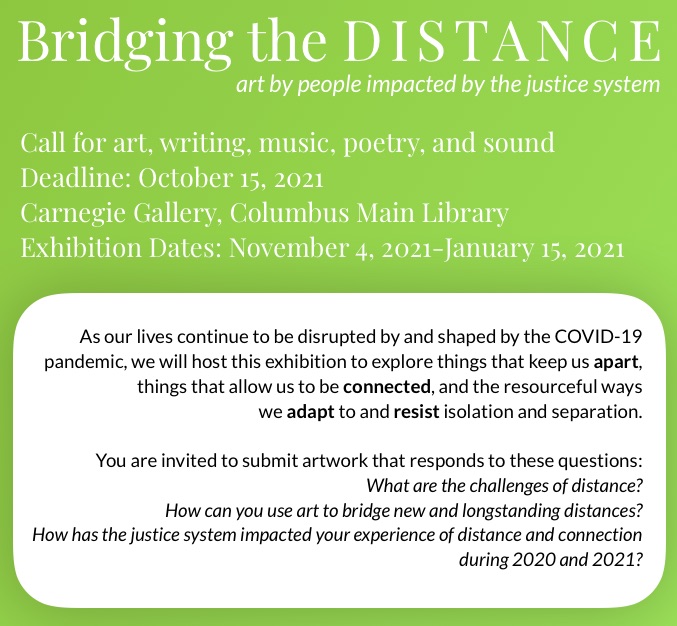 Call for Entries
Deadline: October 15, 2021
Bridging the Distance: Art by people impacted by the justice system
Carnegie Gallery, Columbus Main Library,
Exhibition Dates: November 4, 2021-January 15, 2022
Ohio Prison Arts Connection, in collaboration with Returning Artists Guild and Friends of the Library, seeks artwork for a public exhibition at the Carnegie Gallery in the Columbus Main Library. The theme of the exhibition is BRIDGING THE DISTANCE, and will include artwork from artists who are directly impacted by the carceral system in Ohio.
As our lives continue to be disrupted by and shaped by the COVID-19 pandemic, we will host this exhibition to explore things that keep us apart, things that allow us to be connected, and the resourceful ways we adapt to and resist isolation and separation. You are invited to submit artwork that responds to these questions: What are the challenges of distance? How can you use art to bridge new and longstanding distances? How has the carceral system impacted your experience of distance and connection during 2020 and 2021?
Artwork can come in any of the following mediums:

- 2D or 3D visual art (all mediums accepted)
- writing, including poetry, lyrics, short essay, monologue, or plays.
- recorded sound, including spoken word or music (in the exhibition, guests will need to access these files through a QR code)
Important information to know before you submit artwork:
- Our arrangement with the Columbus Main Library specifies that we can NOT include artwork in the exhibition that includes nudity, profanity, overly graphic content, or hate speech.
- Columbus Main Library will keep a 30% commission on all artwork sold.
- Submissions will be reviewed by a curatorial team, who will let you know if your artwork will be included by October 20.
- Artwork should be delivered, ready-to-install, by October 29. We would be happy to support any artist in getting their work ready to install! Just let us know.
- Artwork will be removed from Carnegie Gallery walls by January 17, 2022 and unsold work will be returned to artists by January 31.
- Artists who are currently incarcerated should submit artwork and details below to the Recreations staff member working on this project instead of communicating directly with us. Any questions should be directed to the Recreations staff member working on the project, who will direct questions to us.
Please submit images or other media files using this link by October 15, 2021, with the following information:
- Artist's name as it should be displayed with the artwork.
- Artwork title, artistic medium, and artwork dimensions
- 2-3 sentence artist statement, focusing on what motivates your art and the mediums and themes you are most interested in exploring.
- Selling price, if the artwork can be sold.
- An image of the artwork, or media files as appropriate.

Artists may submit up to three works.
Artists who are not currently incarcerated: direct any questions to info@ohioprisonartsconnection.org.